BANDARA RESORT & SPA  Koh Samui 
By Kelly Tang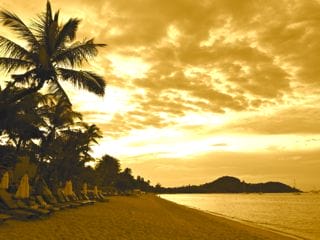 Situated in the Gulf of Thailand, Koh Samui is one of Thailand's premier holiday destination islands. It's the second largest island in Thailand, the largest being Phuket. Four main beach regions define the island and tourist communities spread across 228.7sq kms. These four regions make up the tourist hub. They are Chaweng Beach, Lamai Beach, Bophut Beach and Maenarn Beach.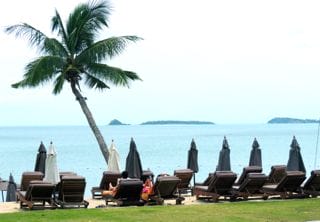 Recently I had the pleasure of staying at the Bandara Resort & Spa on Bophut Beach.
THE BANDARA RESORT & SPA
The Bandara Resort & Spa is a ten-minute drive from the airport and is perfectly located on the tranquil north coast of Koh Samui. As you enter reception, life as you know is left behind. You quickly discover how beautiful, expansive and private the resort is. From the main street you cannot comprehend the oasis you are walking into. Manicured lush landscaped gardens surround three main pools and a kid's pool. The main pool is massive with a Jacuzzi and eight surrounding cabanas. Two smaller pools lead to a bar and a restaurant on the beach. Initially due to its size (2.72 hectares) I didn't realize Bandara Resort and Spa is a beachside resort.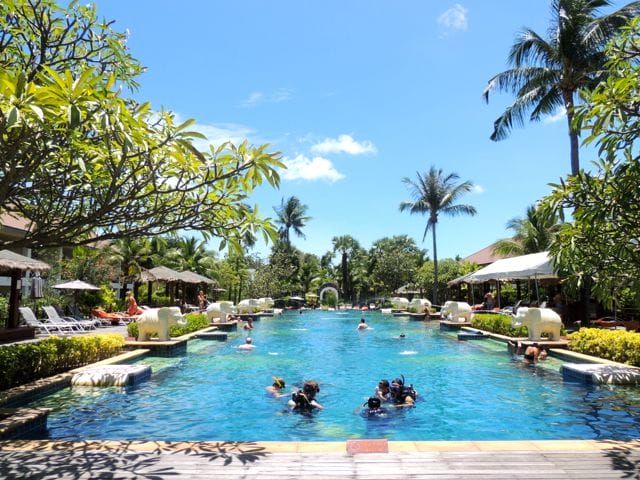 HIGHLIGHTS OF BANDARA RESORT & SPA
 *The restaurant food is great but I have to give the buffet breakfast a rap, it was superb. The selection and quality of moorish food ensured any kind of dieting is definitely put on the back burner while you're at the Bandara.
*I am certain that's why there is a fully equipped gym available so you can attempt to burn off any excess holiday calories you will undoubtedly collect.
*The staff at the Bandara are exceptionally warm, friendly, professional, forever smiling and nothing was ever a problem.
*Great variety of rooms and villas available all delightfully decorated.
*Thursday night at Bandara beachside restaurant is "feast and fair night." It's a great family night. (Entertainment is available for kids) Multiple food stations are available offering a huge variety of food cooked fresh on request.
*Extensive spa treatment menu is available with 10 therapists on call to work their magic. Spa guests can choose from a full menu combining ancient Thai traditions with numerous Asian and Western therapeutic techniques. Choices range from a 30-minute massage revitalisation to a 7-day pampering package.
*A short 10-minute walk to the famous and popular Bophut beach "fisherman's market"
*Wedding specialists
WEDDINGS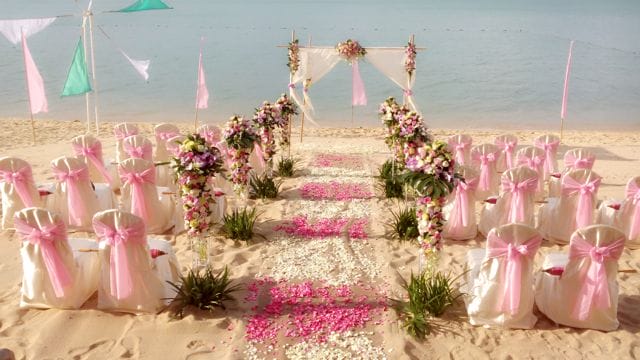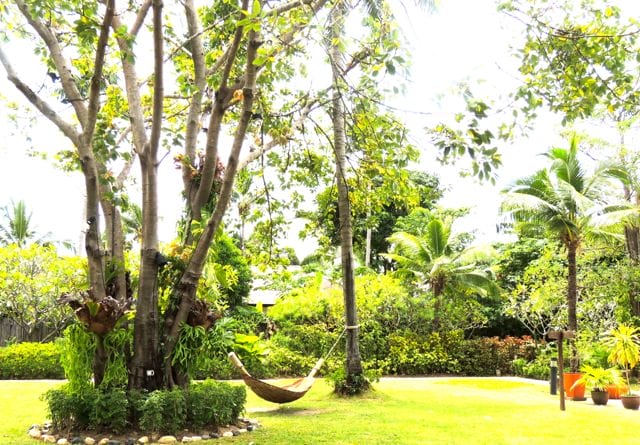 Beautiful gardens
The Bandara Resort & Spa is the ideal resort to have your wedding. Thailand is renowned for being one of the premier islands in the world to get married, especially for Australians, as Thailand is so accessible to get to. The staff at the Bandara are expert at putting weddings together.
The Bandara put on three styles of weddings…
*Western style weddings
*Thai style weddings
*Grand weddings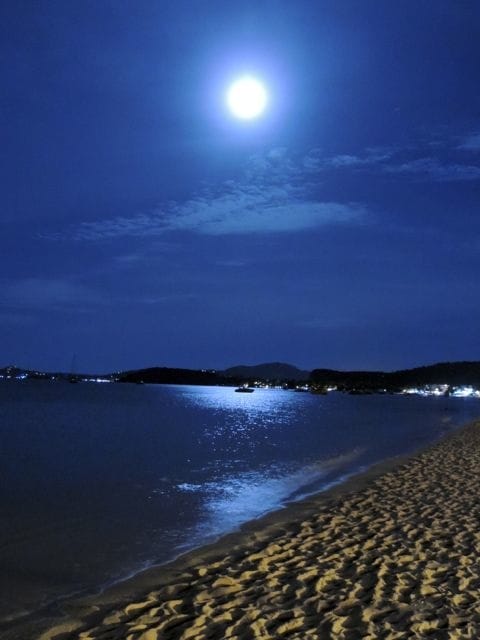 There are four locations for weddings at the Bandara all beautiful and different.
1. Bophut beach lawn: Overlooking the Ocean
2. Bophut beach: On the beach
3. Chom Dai Terrace: On the beach restaurant terrace
4. Banyon Tree Garden Lawn: Under the shade of Bandara's Banyon tree
There is an endless array of activities available in Koh Samui.  Here are a few of the most popular…
*The wide variety of beaches: The most popular and busiest is Chaweng followed by the less manic Lamai, Bophut and
Maenarn beaches.
*Massages on the beach: Cheap and so much fun. A must do therapeutic daily activity. At least get a daily foot massage. A
60 minute Thai oil massage will set you back $10AUS.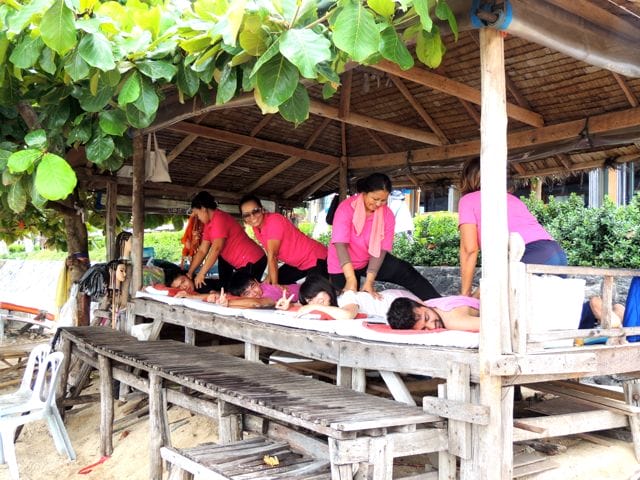 *Fisherman's Village, Bophut. Interesting, quaint and historical area to peruse that is a collective of food carts, coffee houses and restaurants. The area offers a tranquil beach location, guesthouses and plenty of activities.
*Wat Plai Laem: Temple: Renowned for its eighteen-arm arm statue. The most colouful Temple in Koh Samui.
*Chaweng Lake: If you've got your party hat on and want lots of fun, bars and great nightlife, the lake is your venue.
*Na Muang Waterfalls:  Samui has several waterfalls; the two Na Muang waterfalls are probably the most picturesque. The first is 18 meters high, and the second being approximately 80 meters high. Na Muang is easily accessed by vehicle.
*Ang Thong National Marine Park: Is a pristine archipelago of 42 islands in the Gulf of Thailand with towering limestone mountains, thick jungle, white-sand beaches, fertile mangroves, waterfalls and hidden coves and lakes to explore. Within sight of Koh Samui, Ang Thong Park is a protected area of more than 100 square kilometres of land and sea, and home to a rich variety of exotic wildlife and sea life. Snorkelling, hiking, sea kayaking, diving, sailing and simply relaxing on one of its idyllic beaches are the main activities to enjoy on Ang Thong.
Extremely helpful staff at the Bandara Resort & Spa tour counter can organize all of these attractions and tours and many others that are available.
 For all wedding information contact Bandara Resort & Spa
E-mail: [email protected]
TIPS
 When traveling overseas you must have an International Driving Permit. The reason being…
*An international drivers license allows you to drive overseas without further tests or applications, provided your Australian license is valid.
*You are required to carry your Australian Drivers License with your IDP whilst overseas
*It is also a requirement for renting a car or bike in many countries. Failure to do so may constitute a criminal or civil offence and may have more serious consequences
*It can also trigger an exclusion under your travel insurence policy if claiming for loss caused while driving a motor vehicle or bike overseas
*It can also be used as another form of identification
*In most cases, your current Australian driving license is not enough alone when driving in a foreign country. It must be complimented with an International Driving Permit.
HOW TO GET THERE
Jetset Travel Rosebay
(02) 9371 8166
www.jetsetrosebay.com.au
Words and photography Kelly Tang