Eskaya Beach Resort & Spa is a beautiful resort-spa on Pangalo Island which is located at the southernmost tip of Bohol in the Philippines. Down towards the beachfront is a long stretch of white, powdery sand that stretches for five kilometres, 600 metres of which is part of Eskaya Beach Resort & Spa. The name Eskaya refers to the only known indigenous people of Bohol.
Sleep
The resort is boutique in style which accounts for its exclusivity. Architecture of the building is decidedly Filipino with a splash of modern amenities. The thatched villas or balai in the dialect, are single detached. These have been built with sturdy construction materials with an emphasis on the use of indigenous materials such as bamboo and congon.
All accommodations offer modern amenities such as telephone, flat screen TV with satellite system, DVD player, mini bar, tea and coffee maker, two person whirlpool tub as well as an outdoor bathroom and private landscaped garden setting. Most of the villas boast their own private swimming pools. The focal point of the resort is the infinity swimming pool that blends harmoniously with the sea.
Activities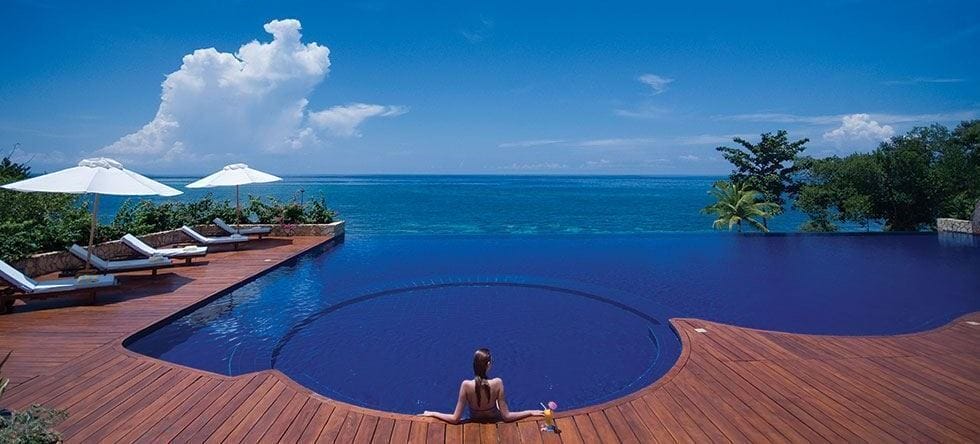 Guests have several dining options at Eskaya. Facing the infinity swimming pool and overlooking the royal blue sea beyond, Lantawan Restaurant has a cool feeling and a warm ambience. You can dine under the moon and the stars, alfresco, or simply enjoy the warm atmosphere of the restaurant. A bonfire and barbecue by the beach is a more casual dining option. The caring staff are sure to make your stay more worthwhile and memorable. Their simplicity and graciousness will make you feel relaxed and pampered.
Pamper your body and soul at Handuraw Spa. Handuraw is a Visayan word, that evokes imagination and sweet memories. Situated on top of a cliff overlooking the vast sea, it has two treatment rooms that open to the garden and the sea beyond and offers a menu of relaxing treatments.