21Located in the centre of Sri Lanka, Sigiriya is one of the country's most famous landmarks. Of all the memorable sites on this exotic island, none can possibly compare with Sigiriya's ancient rock fortress. Built in 477AD, it has been described as the 8thwonder of the world and has been declared a world cultural heritage listed site by Unesco. Situated in Sigiriya National Park and sitting proudly in the heart of the island's cultural triangle, this massive rock of red stone rises from its jungle hideaway to a stunning 600 feet into the sky. At the summit is an ancient palace, which has now been described in the annals of history as an architectural masterpiece.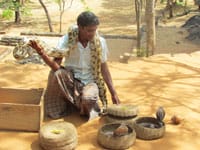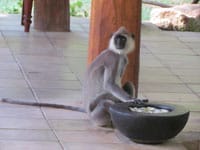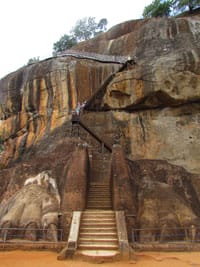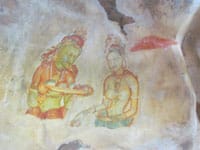 The saga of Sigiriya is of warring brothers and is a spectacular story. This ancient ruin was once a fortress hideaway for the renegade King Kashyapa who overthrew his father and built this self-contained opulent hideaway to keep his enemies at bay, particularly his half brother.
King Kashyapa reigned for 18 years, but his glory days ended when his half brother returned seeking revenge and gathered an army to challenge the King to battle. Kashyapa's army fled to avoid a bloody battle and as a result, as legend states, he committed suicide.
This ancient architecturally designed masterpiece had in its grounds an incredible array of fountains and pools that for their times were a rare feat of engineering.
The entire plan of the palace is still remarkably visible today.
The ancient palace/rock fortress is one of the main reasons to visit Sigiriya and it is a memorable day exploring this historical site. Some of the amazing things you will see include a polished rock wall, containing some of the oldest graffiti known to man and also some 22 frescoes left from the original 500 still holding their vibrant colours after all this time. These works are beautifully intricate and are worth the extra climb to see them.
Towards the top and at the northern end you pass through a massive carving of a pair of lion's paws, the only part of the lion left standing. Through this entrance is the final ascent to the summit where a final stairway takes you to the top of this ancient relic.
It is quite an effort to get to the top but if you take your time it's worth the hike.
At the top, you will be rewarded with an amazing view of Sigriya and observe the ancient ruins of what once was an opulent palace. It gives you an incredible insight of life in this era.
WHERE TO STAY
The Hotel Sigiriya
Hotel Sigiriya was one of the highlights of my Sri Lankan adventure. It was like staying in a nature reserve with a hotel thrown in as a bonus!  Monkeys, squirrels, lizards, frogs and other exotic creatures are all part of this stunning setting that call this hotel home.  The setting of the hotel is breathtaking as there is a direct view onto the rock fortress from the serene setting of the hotel's swimming pool area. There is also a health spa situated amongst the grounds and is a delight to visit.
I will look forward to returning to this hotel and doing another trek to the rock fortress just so I can have a massage on my return, it was that good.
TIPS
*Guides can be useful on your rock trek but not a necessity. So if you do not want one, let them know with a stern but polite "NO THANK YOU" as they can be very annoying.  Otherwise before you know it, you have a guide that you have to pay for, that you don't want or need.
Pictures with written information are strategically placed all over the rock that give you intricate information about the history of the rock.
*Wear a hat, apply sunscreen and ensure you wear good quality walking shoes.
*Drinking water is essential and can be purchased on site.
HOW TO GET THERE
Jetset Travel Rosebay
(02) 9371 8166
www.jetsetrosebay.com.au
Photography and words by Kelly Tang