The Library is a stunning conceptual hotel created using a semi-minimalist architectural style and shaped by the hands of an island local who was inspired by books. Voted as Thailand's No. 1 trendiest hotel on Tripadvisor, The Library contains an intimate collection of rooms and suites, all built in a contemporary style and equipped with ultra-chic modern facilities. The pure vibration of white spaces wash over as relaxation overtakes. This sheer absence of stimulation is an effect in itself – there is no clutter, no paintings to irk and no busy prints to agitate.
Sleep
The Library is not merely a style of architecture. It offers a service concept that is unique in character from other properties on the island. Each service outlet and accommodation space is equipped with convenient facilities, but at the same time, provides a touch of nature. This ensures that guests remember their holiday as a fantastic experience with the opportunity to get closer to the earth.
New additions to the property include the luxurious Bookmark, as well as an expansive two-bedroom suite, perfect for families. Here, soft flowing fabrics create a tactile contrast to sleek furnishings, accentuated by cool high-end gadgets and an impressive inset jacuzzi.
Taste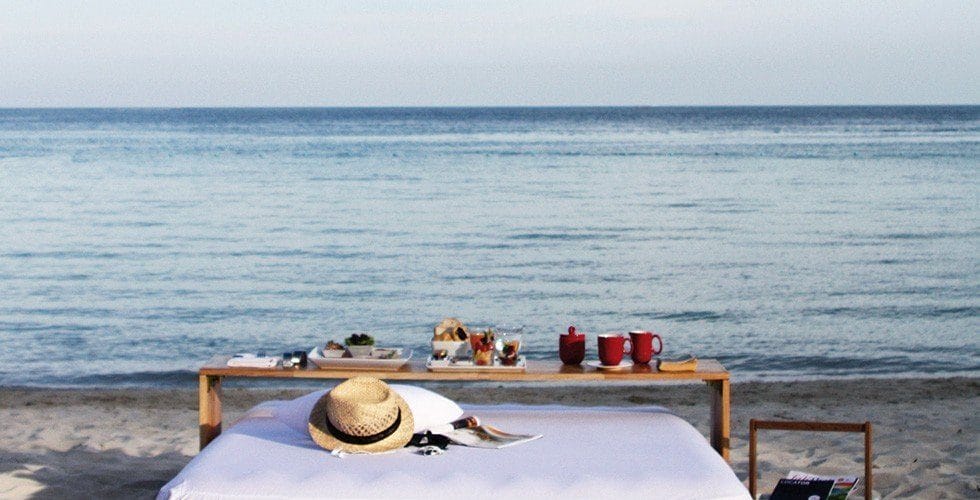 For the ultimate breakfast in bed experience, guests can lay on one of the crisp white mattresses dotting the beach at The Page restaurant, an all-day dining venue recently inducted into the famed list of best restaurants by Thailand Tatler. Or they can grab a quick bite over at the hotel's expanded beach bar, famous for its extensive selection of 101 different cocktails. The Library's penchant for gastronomic originality extends to the Drink Gallery. Bold art pieces of natural wood and steel furniture provide the perfect underscore to an artistically simple menu and playful drinks created by an expert mixologist.
Activities
An award-winning red swimming pool is surrounded by a wooden deck with direct views of the beach, and the hotel's namesake in-house library has a collection of over 1,300 books available to borrow. A full wall of glass provides natural light that softens and warms the space which also offers computer workstations and a large comfortable lounge.
If you want to enjoy a relaxing book reading lifestyle where simple sophistication is king, The Library is sure to inspire and indulge your imagination.