Though I'm not usually an early riser, here I am on the sun deck of a three level Chinese junk at 5:30 am,  contorting  and twisting my body,  while trying to follow a master Tai Chi instructor and at the same time witnessing a spectacular sunrise . Welcome to the Magnificent Natural World Heritage Site, HALONG BAY.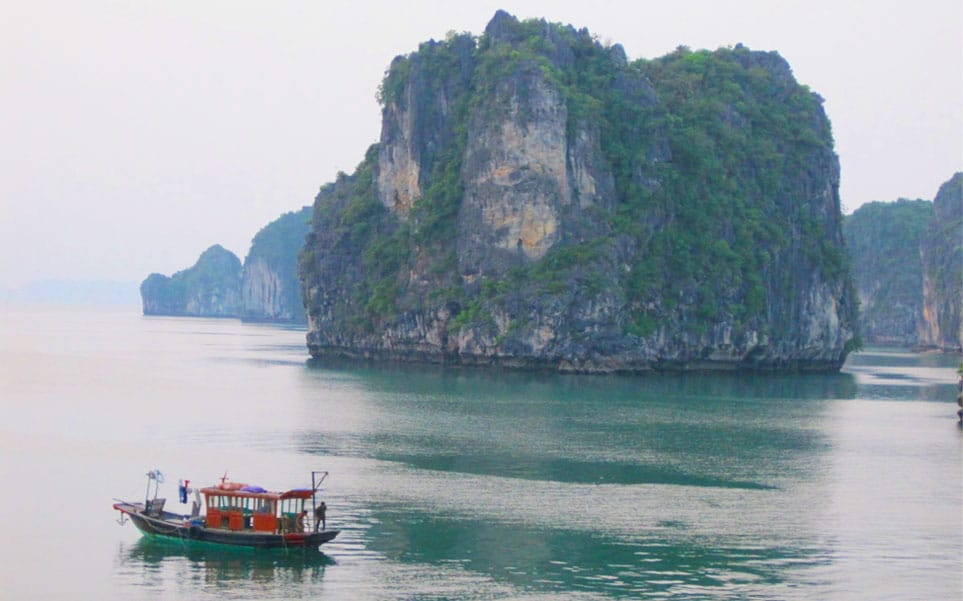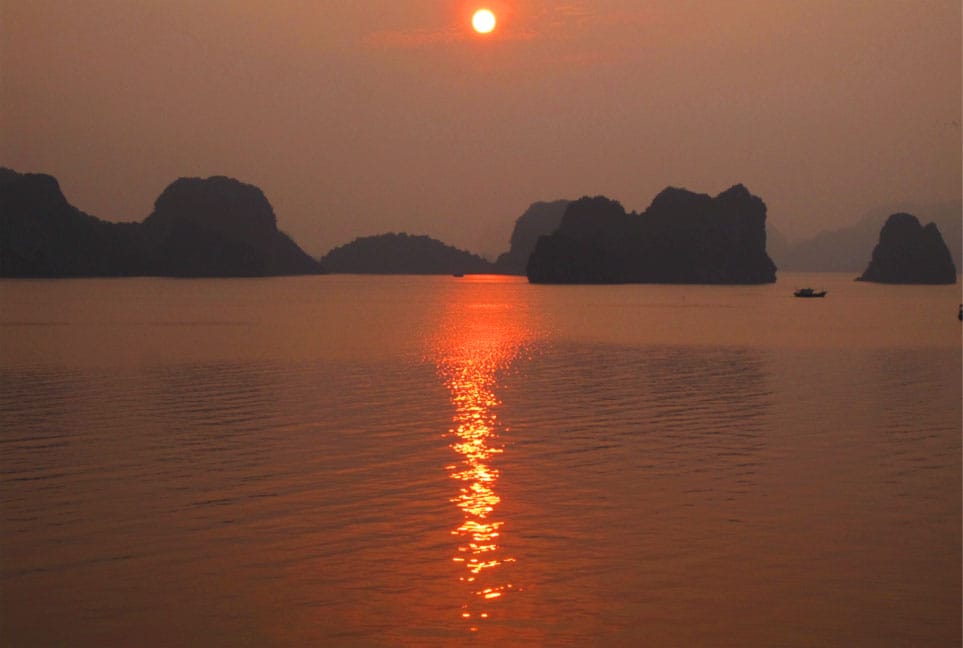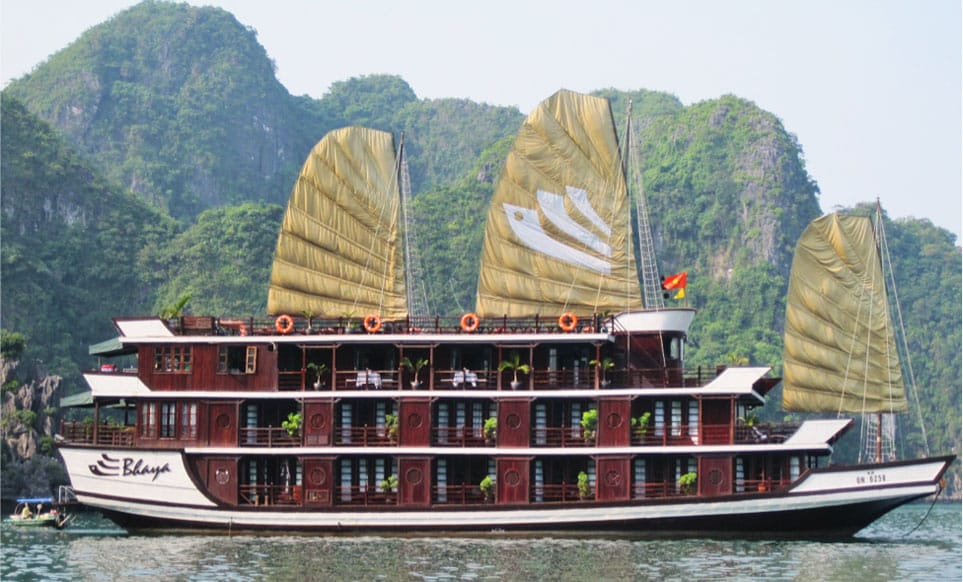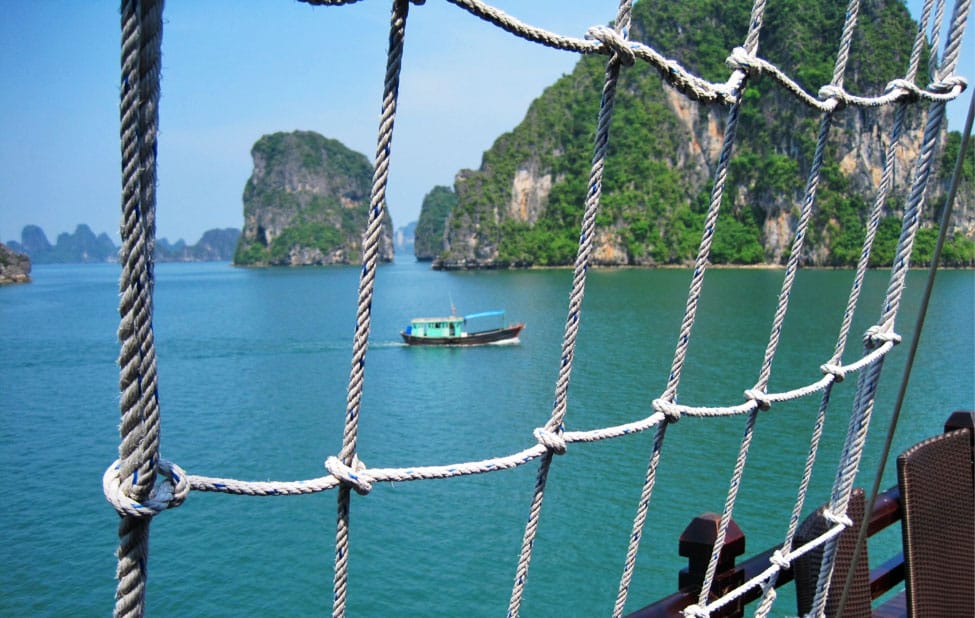 Three hours driving time from Hanoi and you arrive at Halong Bay which is situated on the South China Sea. It comprises of approximately 1500 square kilometers of coastline in the gulf of Tonkin near the border of China.  On arrival, it is not long before you are being ferried out to what will be either a two or three day cruise.
The vessel we are about to board appears and soon we are being introduced to our captain and crew. Our vessel is part of the Bhaya fleet and the three showpiece classic vessels offer an exciting insight to life on Halong Bay.
The fleet was designed by a gifted young French architect from Montpellier. He designed this luxury boat in the style of the ancient Vietnamese junks. On the bay at most times there are many other Vietnamese replica junks, but the elegance of the Bayha makes it a standout vessel from the others.
After our introduction to the captain and crew, we are shown to our cabins and the standard of accommodation on this particular vessel is of a high standard.
The dining room/ bar area is the perfect setting for aperitifs, serving a boutique selection of wines, lagers, liquors and exotic cocktails. This is where all the meals are served which comprises of a delicious buffet serving Asian and international dishes. They also serve light snacks late into the evening. The top sun deck is set up for the ultimate area to relax and unwind. While reclining on the sundeck, the mad world we live in is left well behind.
The boat has activities for all to do, that includes visiting floating fishing villages. There about 1600 people spread across four villages living on these floating structures. Halong Bay is rich in seafood. The local population which live on the bay, survive mainly from fishing. This is due to the fact that the rock islets that are scattered throughout the bay are poor in quality to support any kind of cultivation. Witnessing how these communities survive the twenty first century is quite amazing. Their whole life comprises of living on these floating structures, including schooling for the children, fish cultivation and selling of souvenirs.
Other activities also include visits to some of Halong Bays numerous and famous caves. Other adventures include being taken by row boats to an island to feed monkeys.  You can go swimming, snorkeling and kayaking or you can do nothing but relax and let the world drift away. That is what happens, you drift away. There is no noise, it is so peaceful and serene. This is the beauty of this cruise, you do whatever you want. If you are in need of rest and relaxation, Halong Bay is for you.
*Also available on board the cruise is an open air cooking class on the sundeck. It is the perfect setting to hone your culinary skills. The day I participated, the Chef had all the ingredients for Vietnamese spring rolls, which we prepared, cooked and devoured feverishly on completion by all who participated.
Halong Bay has over 2000 limestone monolithic islets, each topped with thick jungle vegetation rising spectacularly from the ocean. It's a magical bay. The views are spectacular. Whatever time of day, be it the morning, afternoon or night time, the bay sparkles in a multitude of colours.
* Legend has it that when the Vietnamese were fighting Chinese invaders, the Gods sent a family of dragons to help defend the land. This family of dragons began spitting out jewels and jade. These jewels turned into islands and islets dotting the bay and linking together to form a great wall to defend against the invaders.
Many of the outcrops of rocks have been christened with some unusual names due to their strange shapes. They include: Dragon Island, Tortoise Island, Black Cloud Island and my favorite, for no particular reason, Fighting Cock Rock.
It was suggested that when on Halong Bay, you have to witness a sunrise. So in the morning, I was up as early as possible and made my way to the top deck, to witness the most beautiful sunrise that I have ever seen. The sun rising amongst these ancient monolithic islets, set in the romantic South China Sea, leaves you breathless.  With the sun rising majestically, it bathed the bay in a surreal golden glow. It was then during my Tai Chi class, I experienced my most profound spiritual experience.
I am not a religious person, but as I was taking part in my Tai Chi class, I had an overwhelming feeling that I was closer to a power greater than myself. Observing the instructor moving ever so gracefully and rhythmically, made him look like an alien floating in mercury. His movements were so perfect, accurate and precise. Just watching him, had me mesmerized. With the sun rising and the beautiful haunting music emanating from a ghetto blaster, it felt as though I was having an out of body experience, but reality was close, especially when I tried to balance on one leg. I started shaking uncontrollably. The slow movements in Tai Chi and the poses you set up for look so simple, till you try to do them, had me realizing what an uncoordinated human being I was.
I am sure that harmony and balance could become part of my life, if I incorporated some Tai Chi, exercise, rest and a healthy diet.
So, with time slowing down, all that was left to do was to lay down on the sun deck and let all my troubles drift away.
The bhaya has on board, an outdoor health and spa facility that makes this vessel even more appealing. After dinner I relaxed and prepared for my beauty treatments. Now, being a man, usually my life comprises of work, sport and mates. Beauty treatments are not normally on top of my to do list, but I waited with excitement for my time on the beauty table under the stars.
The spa area is located at the rear of the vessel. It is private and the perfect setting for all health and beauty treatments available. My treatment was a deep facial and mask ($23 USD) combined with a 60 minute oil massage ($29 USD).  With a gentle warm breeze blowing and the calmness of Halong Bay, I drifted away. At times I would open my eyes and with the twinkling of the stars in the night sky and the scent of frangipani oil, made this massage and facial, a memory I will cherish for a long time.
On board is an extensive spa menu, ranging from body therapy/massage, facial care, manicure/pedicure, eye treatments and waxing.
Had there been more time, I would have been tempted to try every treatment and leave the vessel a truly converted metro sexual. I now know why women put so much time and effort into having beauty treatments.
When it came time to leaving the boat, I did not want to leave. In such a short time I fell in love with the bay, the view, the serenity and the crew.
"THANK YOU HALONG BAY"
IMPORTANT SAFETY TIP
Ensure when on board you are familiar with all exits from your cabin.
Ensure you know where life jackets are stored and how to wear them in case of an emergency.
It is advisable before leaving home on any holiday that you are proficent in basic first aid.
GETTING THERE
*Vietnam Airlines flies from Sydney and Melbourne to Hanoi 10 times per week
MORE INFORMATION
*BHAYA CRUISES:
*Hanoi salesoffice
*52 Hang Trong street Hanoi, Vietnam
WHERE TO STAY
Intercontinental Hanoi Westlake
Photography and words Kelly Tang