A mix of cultures and traditions characterise Macau, a special administrative region of China. The name Macau comes from a temple called Magao, which is dedicated to the sea goddess, Mazu. The Portuguese pronounced Magao as Macau and the name has stood the test of time. If Macau's Chinese heritage is evident in many of its buildings and in the cuisine, its Portuguese history has left its mark on the customs and conventions here. As one of the richest cities in the world, Macau enjoys a special reputation across the globe. Macau is the traveler's paradise with its clean streets, well maintained gardens and its picturesque sceneries. Macau is connected to the islands of Taipa and Coloane by bridges, and for nature lovers, these locations have much to offer with their perfect beaches to capture your fancy.
Culture
The Chinese make up a majority of the population in Macau, while Macanese and Portuguese make up the rest. The official language here is Cantonese but Hokkien, Mandarin and different Chinese dialects are not uncommon, although much rarer. English is not very commonly used, although there are pockets where it may be understood to a fair extent by locals and spoken as well. In terms of religion, the Macau society is predominantly Buddhist with Catholics making up about 15% of the populace.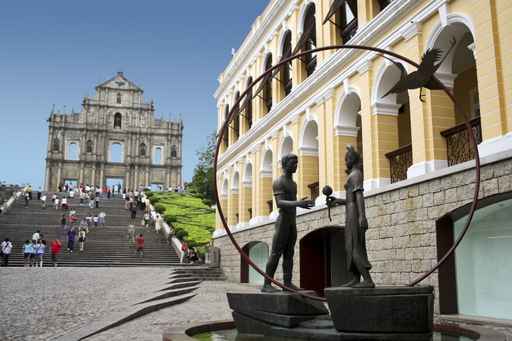 Brushing up on the language before you get here is a good idea because communicating what you need or getting directions can be quite a hassle if you can converse only in English. Keep in mind that it is surprisingly easy to get lost in the winding streets of Macau. There may be long lines for ferry rides and sight-seeing spot entries, so make sure you are prepared for a wait. Another thing to remember is to keep plenty of change ready at hand because changing your big notes can be a time consuming and practically an impossible task here.
Explore
The most famous landmark in Macau is the St. Paul Cathedral. Strategically positioned atop one of the seven hills in the island, this ancient cathedral is a spectacular sight itself despite its ruined state with its detailed carvings making an indelible impression. Don't forget to throw in a coin through the top window to get some good luck coming your way.
Nearby is the Monte Forte, the oldest fort in Macau. This World Heritage Site was a stronghold for defense during the Dutch invasions in the 17th century. If you want a panoramic view of the city, this is perhaps one of the best spots to visit.
To get a feel of the real Macau, the Inner Harbor is the best location you could choose. With its bustling activity, unlimited shopping options and sightseeing opportunities, you can truly experience the island here at its best.
The first Portuguese residential area, the Lilau Square is another must-see place both for its charming atmosphere and architecture and its natural spring waters. For the spiritually inclined, the A-Ma-Gao temple (which gave Macau its name) and the Lin-Fung temple are both good places to stop at. For those inclined more towards the spirits, Macau has a Wine Museum too!
Cuisine
Macau cuisine is a mix of Portuguese and Asian flavors and you should expect to taste some ingredients that are unique to these cultures here. Coconut milk, curry, cinnamon and cloves are common additions to the recipes of the locals and aromatic food is thought to be the hallmark of a great chef here. The Macanese culinary delights are hard to beat and they have made a firm place for themselves in international cuisine today.
Try the Portuguese egg tart which is practically Macau's signature dish. Among street snacks, the pork bun enjoys pride of place with its simple yet palate satisfying flavor and crunch. The sweet potato cake is another surprising dish that can make you yearn for more. If you love seafood, then tasting the Portuguese version here is a must. Taste some of the flavorful Portuguese seafood rice and you will never forget the perfect percolation of spice and taste in the soupy rice that accompanies perfectly cooked mussels or prawns.
Come dessert time, you must have the Serradura which is either served as pudding or as an ice cream. You might be surprised to find some crunch in the dish thanks to the crushed biscuits that line the top over the cream, vanilla and condensed milk. With its own Wine Museum and a Wine and Dine festival taking place here, it is evident that you can get your choice of alcoholic beverages here in Macau with ease.
Activities
Macau is a virtual paradise for those who love games of chance. Known as the Las Vegas of Asia, the island has much to offer in this aspect. Don't forget to drop in at the Venetian Macau, the largest casino in the world where you will find 3000 rooms with modern amenities. One of Asia's most happening locations, Venetian Macau is sure to take your fancy if high stakes games are your preference.
Macau's free port status makes it a great destination for people who love shopping. Gold jewelry is a popular purchase here for visitors from other countries. Branded clothes, accessories, Chinese traditional crafts and arts, pottery and porcelain are other favorites that visitors love to browse and buy. If you are looking to get some great deals, look at the electronics, alcoholic beverages, watches and such like at the duty free shops.
You will get the best shopping opportunities in and around the
area. Apparel is the most popular shopping item here and so are cosmetics. There are also a couple of shops featuring some truly beautiful glass and porcelain pieces that make wonderful gifts. Leather, especially leather jackets, are very affordable here in Macau too.
Transportations
Traffic is very organized here in Macau and using the public transport system is actually a very efficient way to get around in this island. There are quite a substantial number of one way roads so you might get confused very quickly and very easily if you try to make your own way to sightseeing spots in Macau. Both Transmac and TCM, the public bus and mini bus operators cover all the major stops on the island including hotels, restaurants and sightseeing spots. The buses do not have conductors so it is important for you to have the change for bus fare ready at hand and to ask the driver to let you know when your stop comes by. The buses run as far as the adjoining islands of Taipa and Coloane so if you want to take in these islands you can do so using the public transport system. If you prefer a more private mode of transport just hop onto one of the 1200 taxi cars here or flag down a sightseeing vehicle.
Essentials
Most vacation makers can simply use their own passports to enter Macau if they intend to stay between 30 and 90 days. You can also get your visa in Macau as soon as you arrive here. Remember that a duty free quota of 100 cigarettes and 1 liter of spirits applies to visitors here.
The MOP or Macau Pataca is the official currency although Hong Kong Dollars or HKD is widely accepted here as well. The exchange rate indicates that the HKD is slightly more valuable than the MOP.
Macau does have two reasonably big hospitals that are equipped to handle emergencies at any time of the day or night. Special medical precautions may not be necessary but carrying your stash of medicines for emergencies is still a good idea because you may not be able to find a pharmacy quickly when you need to.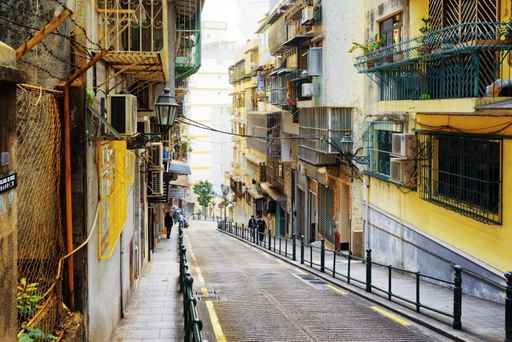 If you are planning a vacation in Macau, keep in mind that May is definitely avoidable because of the heavy rains that lash the islands during this month. October to December when autumn holds sway here is the best time to visit. The daytime weather may be quite pleasant but it may be a good idea to cover yourself up if you intend to head out after night. January to February months can get really cold as the Siberian winds sweep over the islands at this time.