WESTIN DENARAU ISLAND RESORT & SPA, FIJI
Words and photos Kelly Tang
The Denarau Island complex is situated only 20 minutes drive from Nadi International Airport and includes The Westin Denarau Island Resort & Spa, Sheraton Fiji Resort, Sheraton Denarau Villas, Fiji Beach Resort & Spa (Hilton), Sofitel Fiji Resort & Spa, Radisson Resort Fiji Denarau Island, Golf Terraces and the Raddison Blu Resort. There's also an 18–hole championship golf course, a racquet club and a 30–berth marina.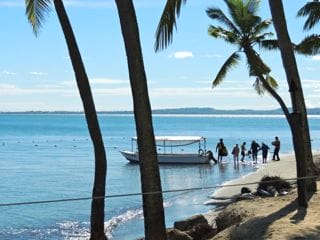 As Fiji's only five star integrated resort complex, guests are able to enjoy access to the facilities and restaurants of the The Westin Denarau Island Resort & Spa, Sheraton Fiji Resort and the Sheraton Denarau Villas and also the use of the Denarau Golf & Raquet Club.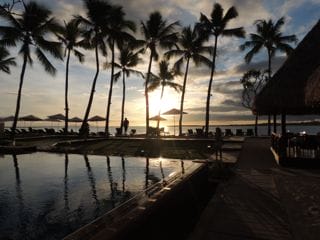 A 'Bula Bus' offers free transportation to Denarau Golf & Racquet Club from both the Westin and Sheraton resorts. There are six swimming pools across the resort complex, a bowling green and daily activities include aqua aerobics and beach volleyball.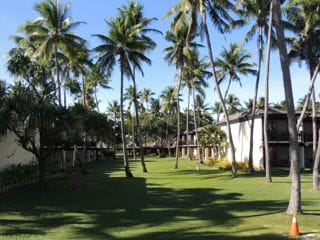 Recently I had the pleasure to spend some time at the Westin Denarua Island Resort & Spa and it was here I met a couple that have been coming to the Westin every year now for over 30 years.
I'm normally a one visit per resort, town, country type of guy but having spent some time with this gorgeous Aussie couple Ken and Alva Muller, I found out why they have such a love for Fiji and in particular the Westin.
They explained how they are made to feel so special and that all the staff know their names and they are treated like family. They love the accommodation, the restaurants and pool and will continue coming here forever.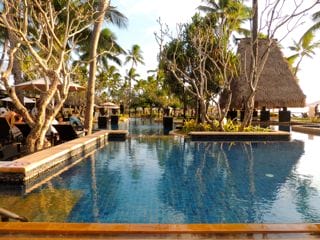 It didn't take us long to discover for ourselves why people keeping coming back here. From the time our luggage is delivered to our room after a friendly check in at reception, we are soon by the pool lapping up the Westin's relaxing ambiance.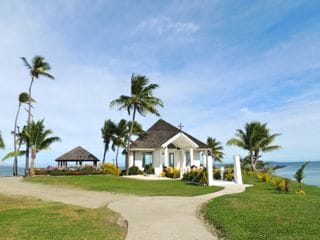 Many 'bulas' later and a few cool beverages our plan is to not move too far from this pool! Ok we did move but only from the pool to another comfortable area closer to the ocean that gave us better views of the stunning Westin Denarau Fijian sunset. Once the sun had melted into the horizon the next tough decision was where and what to eat!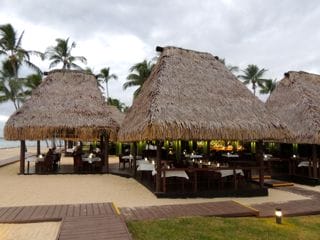 The resort has a variety of restaurants so you don't rally need to leave the confines of the Westin. There is however the Denarau Marina only 10 minutes drive away and there is a great selection of restaurants and bars here. A favourite of mine is the Hard Rock Café and I have to recommend the ribs and cob salad. Great restaurant for both adults and kids with plenty of entertainment for the whole family.
Water sports available at the Denarau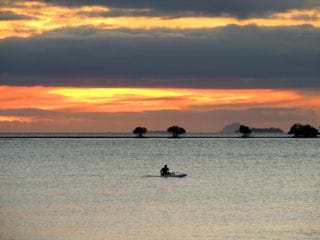 Fiji is known the world over as one of the most beautiful and natural paradises in the Pacific where the climate and inviting mild water temperatures ensure full-year enjoyment for all holiday aficionados. A wide range of water sports, from kayaking to standup paddle boarding, sailing, windsurfing and luxury boat charters are available. Cruise on your own private charter boat through the beautiful Mamanuca Islands or swim, snorkel, or surf with tropical fish and experience Fiji's prestige environment. Professional and experienced watermen will ensure that your safety and comfort is a priority, so you can lie back and enjoy.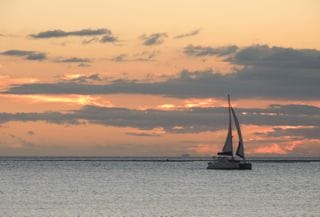 The Westin Resort & Spa has a lovely ambiance and the staff are so loveable and friendly that you want to take some of them home.
I'm thinking this is the kind of resort that I could come back to and become one of those repeat guests….
BULA VINAKA!